Legally compliant website: Watch out for these 5 risks
Nowadays, a good website is simply part of a business. However, a lot of rules have to be observed in order to operate a legally compliant site on the Internet. Those who do not adhere to these rules must expect a warning. In the worst case, the matter can become very expensive.
Therefore, it is even more important that you invest the time today and deal with the issue. It is often only small things that your site needs to comply with legal standards.
Whether you're just starting to build your own landing page/website or want to review your existing site for legal compliance, we'll show you 5 important risks to consider in this article to make sure your site is legally compliant.
Risk #1: GTC
General terms and conditions (GTC)
are pre-formulated contractual terms and conditions that one business party provides to the other when concluding a contract. Only with the right terms and conditions can you minimize liability and prevent legal disputes with customers.
Is there an obligation to include general terms and conditions?
Basically, there is no obligation to use terms and conditions on your site. This is due to the general freedom of contract, which states that the use of GTC is in the interest of the user. Nevertheless, there is a general duty to provide information, which is most easily fulfilled by stating GTC.
If you choose not to include GTC on your site, the legal regulations of the BGB apply.
What should be included in the GTC?
In the GTC, information is given about general terms and conditions. This includes, for example:
The return conditions
The shipping costs
Limitation of Liability
Deadlines
Cancellation policy
The subject matter of the contract
There is no special obligation to specify certain contents in the GTC. Therefore, they are not mandatory for a legally compliant website. However, the points listed above have proven themselves in practice. You should check individually for your business which content aspects make sense.
Attention when copying others' terms and conditions!
Designing a legally compliant website can often be annoying and time-consuming. Many website operators want to shorten this process and therefore simply copy terms and conditions from other online stores. However, that's exactly what you shouldn't do! The operator of the other site can take legal action against you and send you a warning. Likewise, you cannot be sure whether the texts used there are actually legally compliant or even fit your business.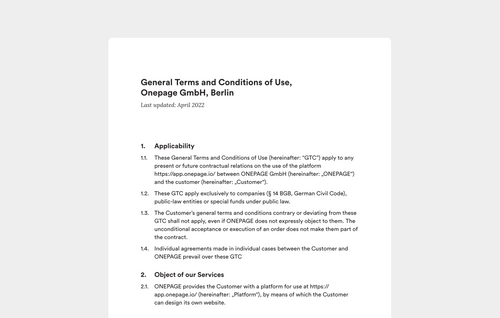 Risk #2: Imprint
In contrast to the terms and conditions just listed, there is an obligation to provide an
imprint
in Germany. The legislator has introduced this so that Internet users know who is behind the company. The consumer should therefore receive additional security through the imprint obligation.
This obligation applies to almost all operators of Internet sites. In general, it can be said that all operators of websites that pursue a business purpose with their site must provide an imprint. So as soon as you want to earn money with your landing page, you must provide an imprint on your page.
What must be included in an imprint?
An imprint must meet certain minimum requirements. This means that your imprint should contain the following points:
Name (first and last name and, in the case of legal entities, the company name and first and last name of the authorized representative)
The legal form (only for legal entities)
The complete address
A contact option where the company (i.e., you) can be reached quickly (usually this is e-mail and telephone number)
If available: Sales tax details and the registration number
In addition to these basic mandatory details, there are additional mandatory details that apply to specific areas of activity.
If the imprint is missing on your site, the legislator reserves the right to impose heavy fines. In order to operate a legally compliant website, you should therefore provide an imprint in any case.
The imprint should be clearly visible to the user on your page/landing page and be identified with the name "Imprint". With many providers, you can find and call up the imprint via a corresponding link. You can also use this option to make your page legally compliant.
On
Onepage
, you can find templates for an imprint page.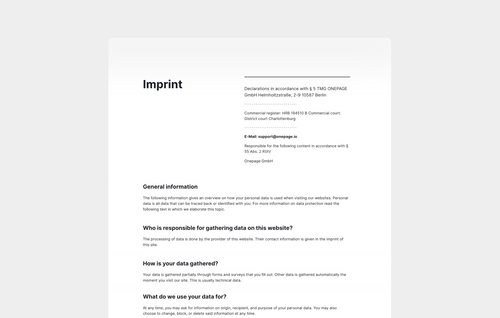 Risk #3: Privacy policy
Just like with the imprint, website operators are required to provide a
privacy policy.
For a legally compliant website, you need a privacy policy. Accordingly, users must be informed at the outset about what data is collected from them and processed.
The privacy policy must be visibly placed on the page for the user. To do this, you can simply provide a link again and indicate this recognizably under "Privacy" or "Privacy Policy".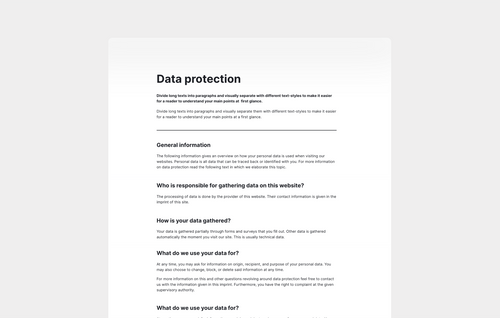 In general, a privacy policy should answer the following questions:
What personal data is collected?
What happens with the collected data?
For what reason is the data collected?
Will this data be shared?
Does cross-border data traffic take place?
What protective measures are taken for the security of the data?
As the owner of a website, you must also inform the user who is responsible for processing the personal data. If you are the controller of a legally compliant site, you must include your contact information.
Use a cookie banner
It is very important that you obtain consent from your site visitors regarding the use of cookies when they first open your website. This is especially easy with a cookie/GDPR banner.
In the cookie banner, you should list exactly which data is used for what and whether the data is further processed.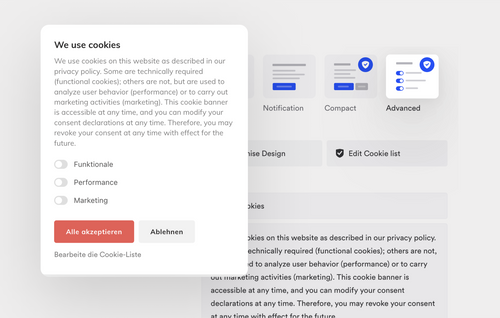 In short: whenever you collect data on your site through marketing, third-party, or tracking cookies and process and evaluate them, you must use a cookie banner.
On Onepage, you can easily activate the cookie banner in the page settings with just one mouse click. The cookie banner is GDPR compliant and therefore legally compliant. This feature is available from the Business license up.
Risk #4: The content on your page
It goes without saying that you need to fill your page with "life". For this, you need texts about your company, images, and maybe even videos. But this is also where a big risk lies.
Creating your own landing page can take a lot of time. Many users want to take a shortcut and therefore copy texts and photos from other websites and simply paste them on their own page.
But it's exactly this convenience that could be very expensive for you later on and lead to a warning letter. Because with pictures, videos and texts, you need the copyrights or rights of use to be allowed to use them on your page. Only the author decides whether and who may use his content. Only when you are in possession of these rights is your site legally compliant.
Which images can you use on your site to keep it legally compliant?
Fortunately, you have plenty of other options for using content on your site. The simplest option is to produce the content yourself. This means that you simply create the images and texts yourself or hire someone to do it for you.
For example, if you hire a photographer to take pictures of your company, the contract will state that the rights of use are assigned to you. You should definitely pay attention to this detail.
Another legally compliant option is to use one of the numerous image platforms on the Internet. Under certain conditions, you may use the images and videos shown there without a license. It's best to find out directly from the respective platform under which conditions you may use the images.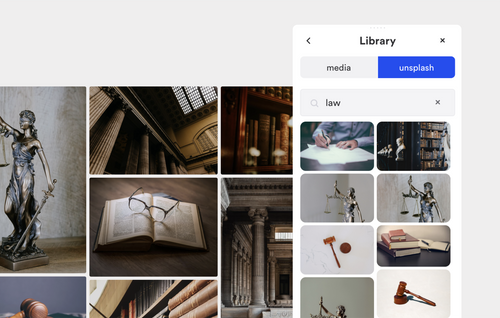 On Onepage, you have the possibility to use images from the huge Unsplash photo database royalty-free.
Risk #5: Quotations
Generally, it's up to you to decide whether or not to include prices on your page. However, if you advertise prices on your site, you are obliged to indicate the gross final price. Final price means that all additional costs and VAT are already included. This is very important for a legally compliant website.
This regulation applies if you sell your goods to consumers in the sense of §13 German Civil Code (i.e., to natural persons). In the B2B sector, however, this obligation does not apply. However, you must ensure that your products are sold exclusively to resellers.
Furthermore, you should pay attention to the following points regarding prices:
Indicate the value-added tax included (incl. 19% VAT).
Show clearly if shipping costs are added (e.g., free shipping or 2,99 Euro shipping within Germany)
Indicate basic price (this only applies to certain product groups)
Indicate the currency after the price (2,99 Euro)
The price must be easily readable and recognizable
In these cases, you have to indicate a basic price
The indication of the basic price is relevant for you if you offer products according to the following units: Length, weight, volume, or area. If this applies to your products, you should deal with the topic of a legally compliant website.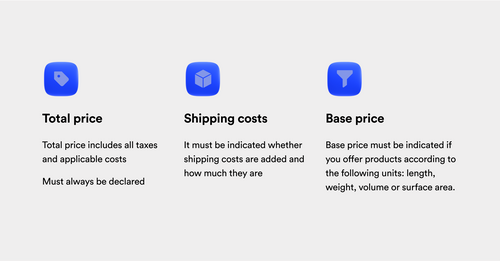 Conclusion
In order to operate a legally compliant site, you need to consider a few points. Use our tips today to make your site legally compliant!
On Onepage, we offer you many tools for this. For example, you can find templates for the imprint, the privacy policy, or you can use our legally compliant cookie banner from the business license on.
Onepage 2.0 is 3x faster, offering you more flexibility in the design as well as over 40 new templates to get you started quickly and easily. Onepage is the #1 website builder, landing page builder, and funnel/quiz builder in the German-speaking market.
We look forward to welcoming you to the Onepage family!