Create great freebies in just 5 simple steps
Get more customers through freebies
Freebies are a profitable online marketing tool. Entrepreneurs use them to generate new leads quickly and easily. A freebie is a (digital) giveaway. As an entrepreneur, you offer a sample of your product for free and receive the email address in return.
And as we all know, freebies are gladly accepted by consumers.
The idea is by no means new. Many will be familiar with free food samples, for example, as they are offered in supermarkets or at the bakery.
Why freebies are important for your website
Imagine the following scenario: You run a business in a great downtown location, many customers pass by every day and look attentively at your products. You notice that they are interested in your products - but you just stand there and do nothing. The potential customers leave your store WITHOUT having bought anything. Your chance to make a sale is over. This is exactly what happens on your website if you don't offer a freebie.
Customers visit your website, are basically interested, but you don't offer them enough reasons to stay and finally buy. This is exactly where the freebie comes into play. The free giveaway gets your website visitors to leave you their contact information in exchange for the gift. Then you have the chance to win these leads as customers with successful
email marketing.
Likewise you strengthen the confidence to your customers by a Freebie. According to the motto "you can test my product for free and convince yourself of the quality". This principle also ensures that customers are willing to buy your products at a later date at full price.
In this article, we'll show you how to create great freebies and gain new leads for your site as a result.
1. Define your target audience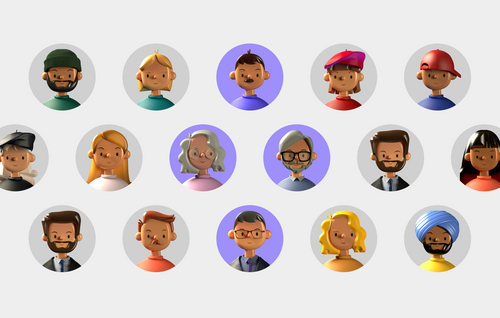 If you've already read several of our blog articles, you'll probably already know how important this step is. And yes, it is necessary to define your
target audience
before any marketing campaign. So also before you want to create a freebie for your site.
Think about who your target audience is. What does your typical site visitor look like? What are their needs? Why might a freebie be relevant to them? What are their pains and desires?
Once you've created an accurate target group analysis, you can then much better define which freebies you should offer them. So the analysis is largely responsible for the success of the campaign.
A freebie does not have to solve all the problems of your target group, but only the most relevant/urgent problem. Of course, you have the option to create multiple freebies that solve different problems.
2. Set freebie format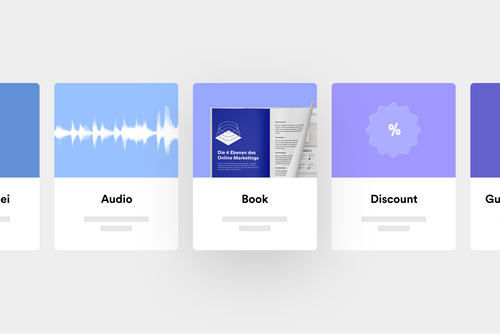 The good news first: Basically, you are free to decide what kind of freebies you want to offer. There is no "right" or "wrong" here.
Which format is right for your customers?
Your target group analysis can now help you decide.
Here's a quick example: Your target group consists mainly of mothers who want to start a business as a sideline. For them, a time-consuming and long educational video would not be the best idea. Instead, a free podcast or a short get-to-know-you session would probably be better for them.
Another approach is to go after your own talents. You're good at writing? Then an
e-book
or checklist that matches the topic would definitely be a great idea. Freebies should be fun and add value. If you're already having fun and passionate about creating them, your customers will notice.
15 Freebie Ideas:
1. Template: Design a template for a page, social media post or graphic.
2. Instructions: You can write tutorials on any topic. For example, a tutorial to create a great landing page on Onepage.
3. Tutorial video: In an instructional video, you can go into detail about a topic of your choice.
4. Audio file: For those who prefer to listen instead of read, an audio file is a great solution.
5. Podcast: Podcasts are currently in vogue. You can go into detail about any topic that's important to you there.
6. Quiz:
Create a quiz and offer your customers great added value with it. For example, a quiz on the topic of "business analysis". You can find suitable templates on
Onepage
.
7. Webinar: Webinars take place at a predetermined time. You can use them to promote your products/services.
8. E-book: Free books are a great way to share expertise on a specific topic with your community. Alternatively, you can offer just one chapter for free as a freebie excerpt.
9. Challenge: With a challenge, you can keep your target audience engaged. For example, challenge your followers to eat healthy for 30 days.
10. Coupon/Discount: Give your customers a discount on your products or issue a voucher for your service.
11. Sweepstakes: Give away your product on your page or social media channels.
12. Checklist: If you're a business coach, for example, you can provide a checklist of what it takes to start your own business.
13. Recordings: Offer free recordings of your webinars or courses.
14. Free course: A free workshop or course is an effective way to build customer loyalty.
15. Tip List: Also a good working idea is listing your best tips on a particular topic.
3. The content of your freebie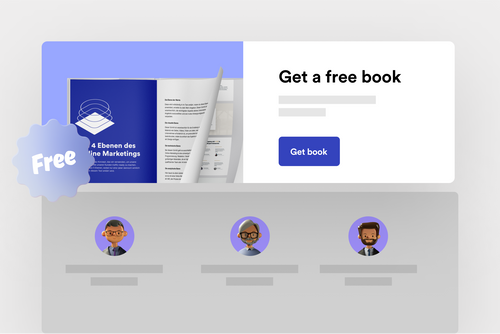 You've now already got the most important part behind you - namely, you know what kind of freebie you want to offer your target audience. Now it's time to get down to the nitty gritty. When designing a freebie, it's advisable to keep a few aspects in mind. These include:
The title:
The title of your freebie plays a crucial role. This is because it should make the reader curious and motivate them to open/download your freebie. Therefore, the title is of great importance.
The reader should already recognize from the title what kind of freebie it is and what benefit is hidden behind it. At the same time, tension should be built up. At this point, our blog article "
How to write convincing landing page texts?
" can help you. There we show you in more detail how you can formulate convincing texts and headlines.
Visuals:
Visuals can give you an important advantage! Just like the headline, the visuals ensure that your freebie attracts the necessary attention. Therefore, the visuals should be attractively designed and adapted to your company.
Choose a modern layout and your corporate colors. And very important: Place your logo/company name clearly visible on your freebie.
Expertise:
When designing the content of your freebie, it's important to convey expertise to your target audience.
By being an expert, you build trust with the reader. This leads to the reader buying your paid products later on.
How can you convey expertise? One simple way to convey expertise is to use data, facts ,and figures. For example, include an appropriate graph or current figures. You can also include a quote from another expert in the field - their status will then "rub off" on you.
Solution-oriented:
A good freebie always provides a solution. Users are only interested in your products because they are looking for a solution to their problem.
For example, if you are a business coach, your customers are probably looking for a solution to generate more sales or customers. They're hoping you'll provide a solution to that very problem. Therefore, you should always offer a solution in your freebie. Only in this way will your freebie have the appropriate added value that will sufficiently strengthen customer loyalty.
4. How does your freebie reach your target group?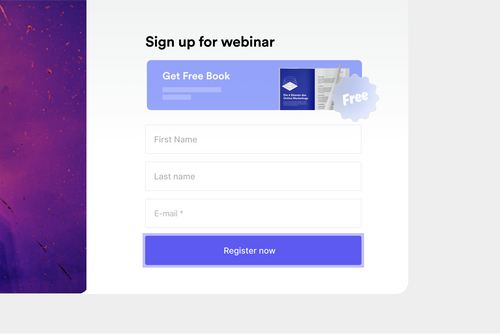 Once your freebie is ready, all that remains is for your target audience to become aware of your new offer.
1. Promote freebie on your own site
A simple but effective way is to promote your freebie on your site.
On your site you can place your free product on different sections. Especially suitable are the header, the menu bar or the footer. In these places, your readers will be able to perceive the freebie particularly easily. But you also have other options to draw attention to your free product!
2. Create your own landing page
Create your own landing page to draw attention to your free product and present it appropriately. On the landing page you have the space to describe your freebie with appropriate texts and images and generate leads. The CTA buttons guide your readers to the desired call to action - e.g. "Download free e-book now". The big advantage of the landing page is that you can generate leads for your freebies very effectively here.
Tip: For this topic, the following of our blog articles can help you:
3. Promote landing page/ freebies
The next step is to promote your landing page. You have several options for this, which you can also combine with each other:
Place ads on social media channels
Write a newsletter and promote your freebie
Write a blog article and draw attention to your free product
4. Performance review
The last step to create really successful freebies is to measure their success.
It is advisable to make your results measurable and scale them. Based on the data, you can see how relevant your freebie is to your target audience and if you need to optimize it. After all, the goal is to attract new customers and ultimately increase your sales.
Once you have created a successful freebie, you can create as many freebies as you like. However, it is advisable not to create more than one freebie per target group. Otherwise, you run the risk of your paid products not getting enough attention.
Now it's your turn!
Now you have learned all the important steps to create great freebies.
One way to create your own page/landing page for free and draw attention to your freebie is with Onepage. You can register an account with Onepage absolutely free of charge.
We would love to welcome you to the Onepage family!