More sales thanks to trust elements on your website
You've probably already seen them on other websites. Maybe you even use trust elements on your website or landing page. Trust elements are content that makes your site look more trustworthy. You rely on the trust of your users. After all, you want them to leave their payment details, buy your goods or book your service. You almost always need your users to take a leap of faith. Trust elements on your website strengthen this trust and can give the decisive impulse to buy.
You can place trust elements on your website, online store, landing page, newsletter, or social media posts. The most common trust elements include customer testimonials, seals of approval, certificates, testimonials, test reports or testimonials.
In this blog article, we'll introduce you to the most effective trust elements for your website and show you how to profitably implement and use them.
Reviews & customer ratings
Reviews from trusted sources are a strong trust element for your website. They are also a particularly credible self-promotion tool that you can use for your site.
The difficulty is getting reviews that are reputable and trustworthy. For example, an anonymous test report with only a little information seems less serious than a test report with a name, which contains a lot of information useful for the customer. The more information you have about the person who published the review (name, picture, company), the better.
How can you get a customer review?
One way to get customer reviews is through good
email marketing.
Send an email to your customers after the purchase and ask them for their opinion. In the email, you can place a link to the review portal of your choice. All they have to do is click on the link and rate your product or service. After that you have a great trust element for your website.
Depending on how well known your product is, you can sometimes find reviews on major test portals for your product. There, products of the same category are compared with each other and usually a test winner is determined. You can also be proactive and ask the test portals if they want to test your products and write a review.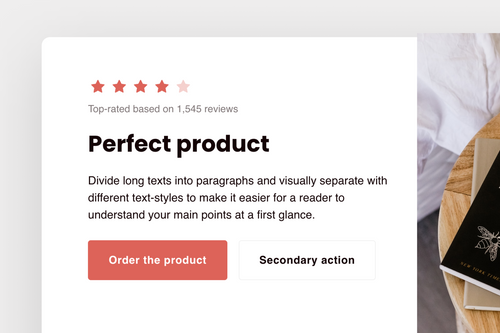 About Us section
Many (especially new) entrepreneurs usually focus only on the
design
or a good presentation of the product. That's important too. But what many don't know is that the About Us section can be a very effective trust element for the website and therefore should not be missing.
Most site visitors want to see a face behind the product. They want to trust you or at least entrust you with their money in the best possible conscience. Therefore, personal information about yourself is very important. Of course, you can create a whole about-us page directly - for the beginning, an about-us section on your landing page is enough.
Here's how to make your About Us section work:
Use a high-quality photo in which you are easily recognizable. Feel free to show off your team, too.

Tell something about yourself: What drives you? Tell what motivates you to keep going every day. What is the Purpose of your business?

Founding story: Tell something about your company's past. Why did you start? How did you get to where you are now?
Unfortunately, it is still too common to see the entire company summarized in 2-3 short sentences on the about us page. Such a description could also apply to 10 other companies without any problems. This is not a suitable way to make your company stand out. That's why take the time to build a personal connection with your customers in this section. This will give you a great trust element for your website.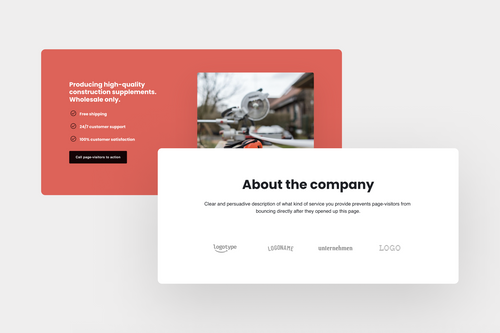 Seals & Certificates
Seals and certificates are trustworthy evidence for your customers. They prove that your shop/product has been tested by an (independent) authority. This gives your potential customers security before buying.
The most well-known awards are certainly those from
Trusted Shops
or the
TÜV.
As the operator of an online store, you can easily apply for the relevant certificates and seals. After registering with Trusted Shops, your store is subjected to an extensive audit - after which you will receive certification.
On the basis of the evaluation you can then also check for yourself where you can still improve. If you successfully pass this test, you can then integrate the seal of approval into your store and present the new trust element to your customers on your website.
You can find more detailed information on the procedure and requirements for such an audit on the respective websites.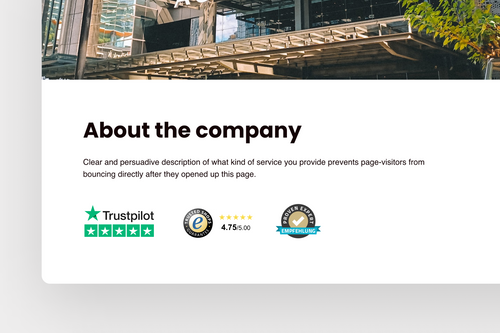 Personal contact
Another trust element for your website is personal contact. Enable your users to get in contact with you. The more personal it is, the better!
Create a contact form for it on your page. Users can then contact you in writing. As the operator of a site, it should be a matter of course for you to respond to every inquiry. For an online store or products that require explanation, you can also offer customer support. Customers can then contact you via live chat or by phone. This builds trust and uncertainties can be resolved before the purchase.
It is important that you respond to requests quickly and politely. If customers have to wait too long, this can quickly be seen as impolite and the potential buyer is more likely to be "deterred" from making a purchase.
Social Media
Social media is part of a functioning business these days. One big advantage: You can also use social media as a trust element.
On your social media channels, you can share relevant content with your users. Make posts there that are relevant to them. Tell them about you, your business, your products or new discount offers. This is how you establish trust.
5 tips to use social media as an element of trust:
Offer custom discount codes and show your customers you're thinking of them.
Share customer reviews on your networks
Tell something personal about yourself so your customers get to know you better
Make a FAQ (Frequently Asked Questions) and address possible concerns and common questions
Show your daily work life and promote the personal connection to your users
Testimonials
Use testimonials as a trust element on your website. Testimonials can be customers, well-known personalities, influencers or experts. A familiar face strengthens trust and, in the best case, triggers a buying impulse.
For example, ask if customers of yours would be willing to share their experiences with your products in a video. You can then use the videos as a trust element on your website, your social media channels or for other promotional activities.
Using influencers as testimonials is a common tool. However, make sure you choose the right influencers - they should fit in with you and your company and appear credible. Only then will this advertising measure become a successful element of trust.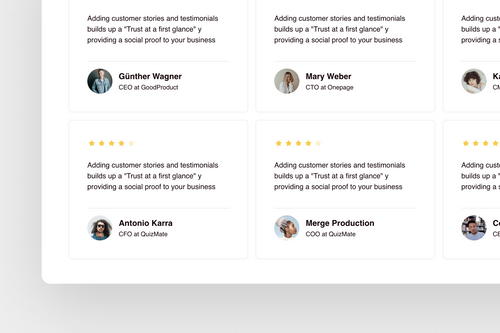 Logos and references
Logos of customers or cooperation partners are another very effective trust factor. You can place them in the footer or border area of your website. You can also dedicate a separate section to them on your landing page.
This helps users gain trust in you. In the best case, they will know one of your reference customers. If you want to report in detail about your cooperation partners, it can make sense to create a separate page.
You can also make the whole thing even more detailed and create case studies and report there about the joint cooperation. A successful case study can be a great social proof.
Payment methods
The payment methods should be clearly visible on your page. Ideally, customers can choose one they trust from a selection of trusted providers. This way, payment providers act as a trust factor on your site.
Depending on the target group, the preferred payment option may vary. Factors such as age, origin or monthly income also play an important role. For example, if you offer a relatively expensive service, it may make sense to work with a payment provider that allows your customers to purchase in installments. Lack of payment options can lead to customer frustration and, in the worst case, no purchase.
You can extend the trust of your payment options with trust elements that provide even more security to your customers. A well-known example of this is eBay. The platform enables its customers to make use of the
PayPal buyer protection
. This goes beyond the legal requirements.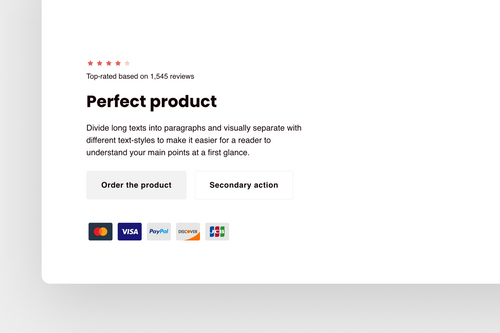 Conclusion
Trust elements on your website are a great way to gain your customers' trust and resolve concerns. Effectively applied trust elements provide a higher conversion rate and higher customer satisfaction.
Try it out for yourself! Check your website for trust factors and place 2-3 useful elements.
One way to create your own site and integrate trust elements is to use Onepage: