Create an Online Quiz: How to do it in just 5 easy steps
All the important steps to create a quiz and use it successfully for your business.
You want to run a profitable business? Then leads are indispensable for you.
A lead
describes a potential buyer who is interested in your company or service.
In the marketing field, there are many promising ideas to generate leads. As a business owner, you can't avoid looking into these strategies and trying out new methods. One effective option for lead generation is quizzes.
Why should you create a quiz?
Almost every internet user has most likely participated in an online quiz at some point. As a user, the "playful character" encourages you to take the quiz. For the corporate side, quizzes mean a particularly creative form of lead generation. Especially on your website or
landing page
, integrated quizzes are very efficient.
Why is that? Quizzes make it possible to interactively lead the prospect to the contact form in an unbiased way.
In this article, we'll show you exactly how to do that and how best to create quizzes, with 5 practical tips.
We will also go into the best tips for creating quizzes on our
Onepage
software.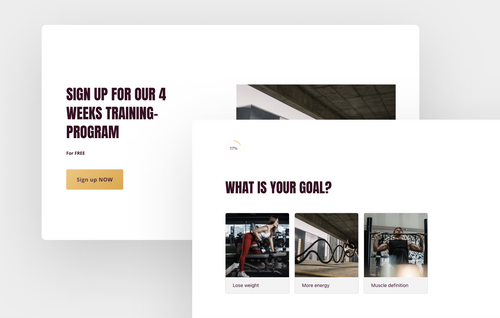 1st Relevance
How to create a great quiz? One key element is relevance. Your quiz can be as good as it is. If it's not relevant to your target audience, they won't take it. The best way is to create a quiz and make it thematically relevant to your business. Always keep in mind the question, "what value can I add to my target audience?".
For example, if you are a provider of high-quality fitted kitchens, it would be a good idea to create a quiz on the topic of fitted kitchens. Possible questions could be "What is your favorite style of the kitchen" or "What does the color of your kitchen say about your personality". There's no limit to your creativity, as long as it's relevant to your target audience.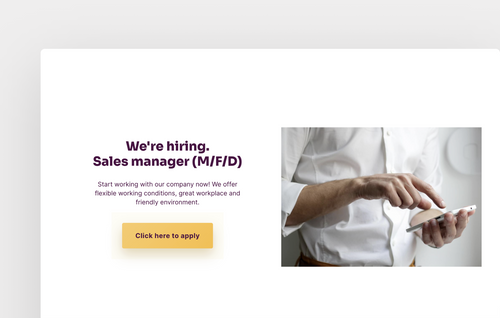 2nd The structure
After you've determined a relevant topic, it's time to start creating. This can vary, of course.
In general, a quiz consists of these three steps:
#1 The cover sheet:
When creating a quiz, the cover page acts as an "eye-catcher" and should encourage your website visitors to take the quiz. So it's important to choose a captivating headline and arouse curiosity in the reader. For this, you can choose an image or a provocative question, for example. To create a great quiz, you also need a
call-to-action button
. This button signals the visitor that he can start with the quiz. When formulating it, you should make sure that the button text is short and simple. For example: "Start now" or "Click here to apply".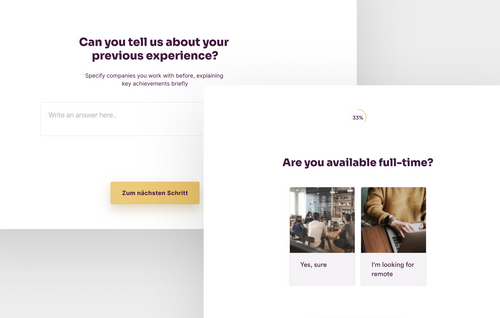 #2 The questions: After the user has chosen to start the quiz, they now get to the "actual content". When you create a quiz online, you can place your questions here one after the other and give the user answer options. You can choose as many questions/elements as you need. However, it is recommended not to keep a quiz too long. Otherwise, there is a risk that the participant will lose interest and simply drop out. It is therefore advisable not to use more than 10 elements/questions.
#3 Contact form: To create a great quiz, the user must fill out a contact form at the end. There they enter their data. There you can ask for all the relevant data that you think is important. Usually, the name, address, email, and phone number are sufficient. Then the user clicks on a button with "Submit data".
If you create a quiz online, you can end it with a thank you page. At this point, you can thank the user for participating and tell them what happens afterward. For example: "Thank you very much for your participation. We will be in touch with you as soon as possible."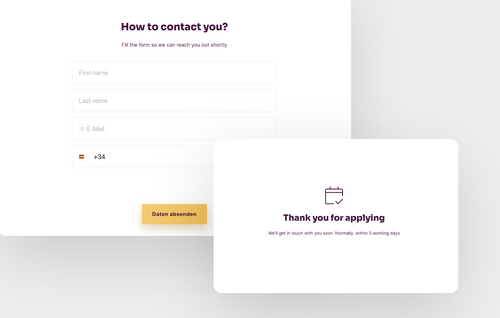 Want to know not only how to create a great quiz but also how to write compelling landing page copy? Then be sure to read our
blog article
on the topic.
3rd Create a great quiz: Go for variety
Do you want to increase the engagement of your quiz participants? Then it's important not to keep the quiz too monotonous. This can be achieved by choosing varied questions and question types.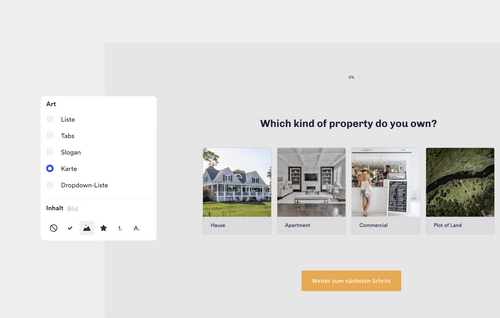 When creating a quiz, questions can basically be formulated according to the same pattern:
Meaningful headline or question that encourages participation.
Subheading that describes a working instruction.
Answer options.
For the question types, you have different choices for the display. For example, in Onepage, you can choose from the following options:
List
Tabs
Slogan
Map
Dropdown list
You can also specify how the content is displayed. So, whether you want to add an image, an emoji, or a simple bulleted list to each answer choice. Creating an exciting quiz can be quite simple. Through the interactive elements, you can evoke emotions from the user and motivate them to continue.
Want to create a great quiz? Then choose different elements to keep it exciting. Of course, you don't have to use a different element for every question - otherwise, it can quickly look cluttered.
4th The design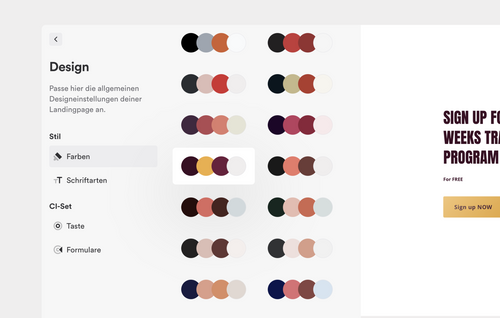 You want to create a quiz that "catches everyone's eye"? Then you should pay attention to a good design. You can do this by creating a quiz and designing it in your brand's colors. In the end, the design should reflect your product or service.
When creating a quiz, it is recommended to use only one font. If it fits, you can also work with two different fonts. But there should not be more. Otherwise, the design will look cluttered and unprofessional. Pay attention to these design tips, and you will create a great quiz.
How to find the right color for your quiz or website?
Choosing the right color combination is not always easy. The colors should definitely match the company. Moreover, the chosen colors should not reduce the readability of the texts.
To create a great quiz and choose the right colors, you can think about what effect you want to achieve? Based on the answer, you can choose a suitable shade. In the field of psychology, there are findings that show how
each color creates a certain effect
and can help trigger certain feelings and actions.
It is also important to analyze your target audience. How old are the visitors to your site? Are they more likely to be men or women? Depending on age, gender, and cultural background, other color associations play a crucial role.
Want to create a great quiz? Make sure to use images and videos. Images and videos evoke emotions in the participant. This not only fosters customer relations, but, more importantly, ensures that you get leads in the end. The pictures should be professionally taken. Ideally, you should use real pictures of yourself and your company. Otherwise, image databases are a great alternative. For example, Onepage has the huge Unsplash library integrated.
Are you also interested in how to generate more sales through digital storytelling? Then be sure to read our
blog article
on the topic.
5th Creating successful online quizzes: Encourage sharing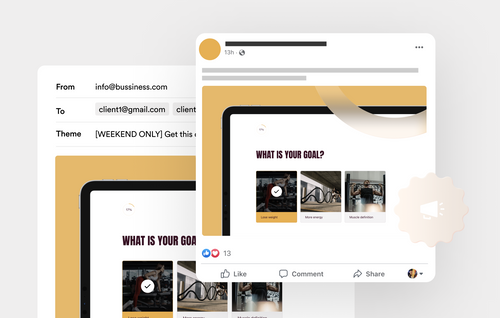 You've already done the hardest part of quiz creation - now all you need are the leads! Now that you've created your quiz and it's online, be sure to draw attention to it. The faster you can be happy about the leads.
You have several options to do this:
Share the link from your quiz on your social media channels.
Draw attention to it in your next newsletter
Report about it in your blog post and link to the quiz/site.
Run an ad where the target link is the quiz
Ask your followers to share your quiz
Your quiz should now get the attention you want pretty soon. The leads generated from it usually end up in a lead list. At Onepage, we offer you an integrated
CRM tool
for this. There you can quickly and easily access your leads, and then you just have to contact them.
Another important step is to ask for feedback. Ask friends, family, customers, or people who have already taken the quiz for their opinion. This is the only way you can get better. If necessary, you can then revise it or create another quiz directly.
Now that you have learned everything important: Have fun creating your quiz! Get started right away: At Onepage, you can register an account for free and create your own quiz.
Onepage 2.0 is 3x faster, offering you more flexibility in the design as well as over 40 new templates to get you started quickly and easily. Onepage is the #1 website builder, landing page builder, and funnel/quiz builder in the German-speaking market.
Don't miss it! Start using Onepage for yourself and your business